Some of you have probably seen my rustic shelves on Instagram. I'm finally getting around to letting you know how I did it. It's a really easy project and it added a ton of character to my cookie cutter living room.
So I started off this project with a trip to Home Depot. I dug through the pile of 2 x 10 x 10's. I wanted to find the most knotty and rugged board I could find since I wanted a really rustic look. The thing I love about Home Depot is that they will cut your wood for free. I take advantage of this very often. One of the employees now knows me by name! Anyway, I had the board cut down into 1/4's. I only used 3 of the boards for this project but 1/3's wouldn't have fit in the space.
The next step is sanding the edges of the boards with at least 80 grit sandpaper. I just wanted to smooth out the edges from the cuts. You could sand the entire board but I left mine alone. After sanding, I applied the Dark Walnut stain.
I hadn't used the Varathane brand of stain before but it was great. It applied evenly and had nice coverage. I applied each layer with an old sock and let it dry one hour before applying the next coat. It does have fantastic coverage for one coat but I wanted to darken it up a bit so I applied three coats.
Normally, I would follow the stain with a clear coat of some kind usually a poly acrylic. This time I did not. I was kind of impatient to get the new shelves in place. I looked around at several stores to find the perfect shelf brackets. I wanted something big and chunky. I couldn't find anything that I liked. I finally found some on Amazon. They were already primed white when they arrived. I decided to sand them with my palm sander to make them appear more rustic.
The final step was mounting them to the wall. My hubby is great at this part. We let the wall by our guide in placing the brackets. I wanted them mounted in the wall studs because 1, they are heavy by themselves and 2, I wanted to put a bunch of stuff on them and knew I needed to have a strong support system. One mistake we made is not measuring out the distance between the shelves. We ended up redoing the bottom shelf because it was off compared to the other 2. I suggest either measuring first (like you are supposed to) or start at the top and measure each shelf accordingly. Sometimes my impatience gets the best of me!
Once the shelves were hung, the fun part began! I got to "shop" my house for items to put on the shelves.
Here are the completed shelves. I am in love with them and how easy this project turned out.
And here they are in comparison to the entire room:
What do you think? I hope this little tutorial inspired you to make something fun for your house.
Shara
Linking up here:
A Diamond in the Stuff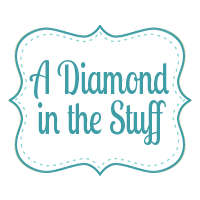 Pin It